A Hermetic Sampler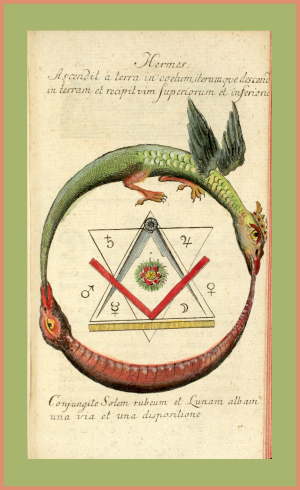 The 2019 Church of Light Conference will be held June 19-23, 2019, in Albuquerque, New Mexico.
This year's conference, titled: "A Hermetic Sampler" will feature ten presenters on a wide variety of topics drawn from The Brotherhood of Light Lessons. This insightful conference includes two days of preconference tours, a preconference intensive on the Astley/Burgoyne/Zanoni mystery, and two full days of speakers. Church of Light Conventions are a unique opportunity to meet like-minded people who share your interest in The Brotherhood of Light teachings.
For Additional Detail: Brochure Download
---
Our Speaker's Roster
Paul Johnson — In Search of Zanoni
Christopher Gibson — Tarot: Conversing With the Court Arcana
Paul Brewer — Using Horoscope 2019
Paul Bergner — Medical Astrology
Steven Frampton — Alchemy: The Real Secret - How to Get What You Want
Margaret Dissinger — Diary of an Aging Stellarian
Mark Doubleday — King Solomon's Lodge
Alan Gatlin — Planetary Cycles
Yvette Fortin — Seven Principles of the Kybalion
---
Here are some of the Activities
Pre-Conference Tours:
For those of you who are planning to make New Mexico your vacation destination, we have organized two exciting day trips.
Wednesday, June 19th
Walking Tour:
Church of Light Headquarters, UNM Campus and Museums
Preconference participants will will briefly visit Church of Light Headquarters in the University District of Albuquerque.
Next, off to The Maxwell Museum of Anthropology, the oldest public museum in Albuquerque, on the UNM campus. The Museum's primary emphasis is on the American Southwest, yet the Maxwell Museum offers fascinating permanent and temporary exhibits in Anthropology, Archeology and Ethnography.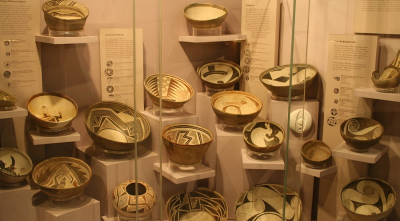 After a 1.5 - 2 hour visit we will walk off campus to enjoy lunch at a local eatery. After lunch we return to campus to visit The University of New Mexico Art Museum, which frequently features the painting, photography, prints and sculpture of the Transcendental Painting Group, the estate collection of Raymond Jonson and the Tamarind Institute lithography archives.
(This is a moderately active tour, participants must be able to walk a total of two miles at 5,200 feet above sea level, over the course of a five-hour tour and stand for up to two-hours at a time).
Admission to both museums is by donation.
Thursday, June 20
Acoma Sky City and Haak'u Cultural Center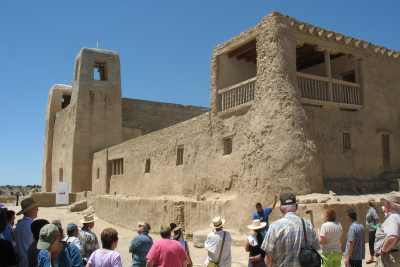 Located 60-miles west of Albuquerque, Acoma, or Sky City boasts of being the oldest, continuously occupied community in the United States. We last made this tour twelve years ago in 2007.
Built on a mesa-top 6,460 feet above sea level, and 300 feet above the desert floor, you'll experience breathtaking views and amazing rock formations. As one of New Mexico's most scenic and historic Native villages, the Sky City Cultural Center and Haak'u Museum preserve Pueblo traditions and provide education concerning the unique history of the Acoma People. We will take a Native-guided tour, visit the ancient village and meet local artisans selling their Native American pottery, jewelry and other crafts.
In deference to the Village Elders who live on the mesa year-round, dress modestly as you might when visiting a church in Europe.
Due to high elevation and low humidity we recommend that you wear a hat, sunscreen, and comfortable walking shoes, and bring plenty of water to drink. During summer, the temperature can top 95 degrees.  The tour is 1.5 hours and involves 3/4 of a mile walking on uneven rock surfaces.
Haak'u Cultural Center, guided tour and camera permit is $25.00 ($22 for seniors). Following the tour, we will have lunch at Yaak'a, the cultural center restaurant. Lunch will be approximately $15.
---
The remainder of Conference events are held in the Sandia Room
at the Best Western Rio Grande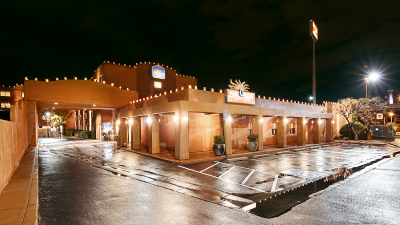 ---
Friday, June 21
9 - 9:30 AM
Registration
9:30 - 12:30 PM
In Search of Zanoni: Astley/Burgoyne/Zanoni Mystery — Paul Johnson, Neil Cantwell & Christopher Gibson
12:30 - 4 PM
Lunch and free time - participants are on their own or with friends
4 - 5:30 PM
Annual Membership Meeting
5:30—7 PM
Break (must clear room for setup)
7 PM
Initiates Gather
7:30 - 9 PM
Initiation Ceremony
9 - 10 PM
Reception for Initiates and Guests
---
Saturday, June 22
8 - 8:30 AM
Registration
8:30 - 9 AM
Opening Ritual & Welcome
9 - 10:25 AM
Tarot: Conversing with the Court Arcana — Christopher Gibson
10:35 - 12 PM
Using Horoscope 2019 — Paul Brewer
12 - 1:30 PM
Luncheon Buffet
1:30 - 1:45 PM
Announcements
1:45 - 3 PM
Medical Astrology — Paul Bergner
3 - 3:30 PM
Breaks & Readings
3:30 - 4:30 PM
Alchemy: The Real Secret - How to Get What You Want — Steven Frampton
5 - 6:30 PM
Break (must clear the room for setup)
6:30 - 8 PM
Dinner Buffet & Awards
8 - 9:30 PM
Entertainment: Zuni Pueblo Dancers
9:30 - 10 PM
Dance Party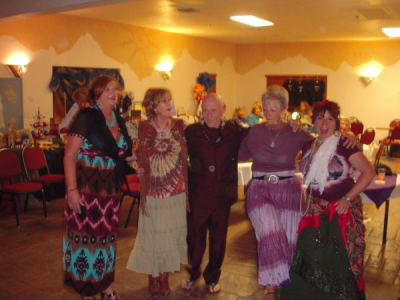 ---
Sunday, June 23
8:45 - 9 AM
Announcements & Orientation
9 - 10 AM
Diary of an Aging Stellarian — Margaret Dissinger
10—10:30 AM
Break and Readings
10:30 - 12 PM
King Solomon's Lodge — Mark Doubleday
12 - 1:30 PM
Luncheon Buffet
1:30 - 2:45 PM
Planetary Cycles — Alan Gatlin
2:45 - 3:15 PM
Break and Readings
3:15 - 4:30 PM
The Seven Principles of Hermeticism — Yvette Fortin
4:30 - 5 PM
Q & A
5 PM
Closing Ritual
5:30 PM
Bookstore Closes
We look forward to seeing you at the 2019 Church of Light Convention!
---