Hermetic Astrology at Its Best
Purchase Horoscope 2020 Here
List of Features and Specifications
See what users have to say about Horoscope
Horoscope 2020 is a hermetic astrology program for Windows.
The Horoscope program employs all the techniques from the Brotherhood of Light teachings as recorded by C. C. Zain, aka Elbert Benjamine, possibly the greatest astrologer of the 20th century. While it's hermetic roots go way back, Horoscope 2020 is a thoroughly modern, intuitive and easy-to-use software program. The program is designed to be easy to use for beginners while providing all the necessary features for the professional astrologer.
Horoscope 2020 has a suite of video tutorials to teach you how to get the most out of astrology and the Horoscope program. You'll find the video tutorials here. You can also access the video tutorials right from the Horoscoope Help menu.
Horoscope 2020 is the only desktop application that provides Progressed Astrodyne analysis and reports.
Some of the New Features in Horoscope 2020
The latest version of Horoscope has lots of new features and improvements, some of which are described below. To see all the new features of Horoscope 2020, go here: Horoscope 2020 New Features.
Chart Analysis Report Generator
New in-depth Chart Analysis Report with just a couple of button clicks. The report contains ten sections plus an appendix covering all aspects of chart delineation including new, revolutionary interactive diagrams of energy distribution in the chart for planets, signs and houses as shown below. (See example Chart Report of Donald Trump.)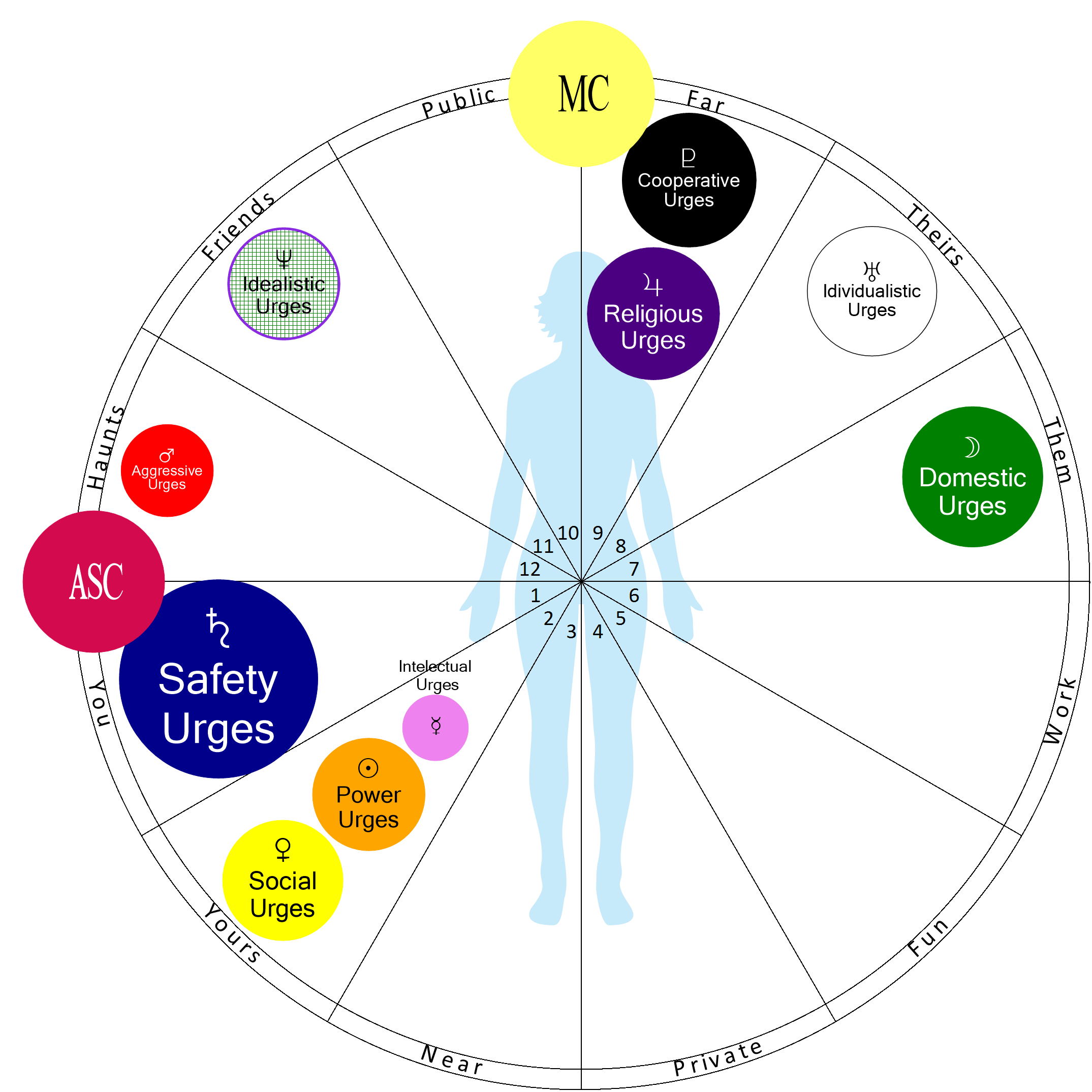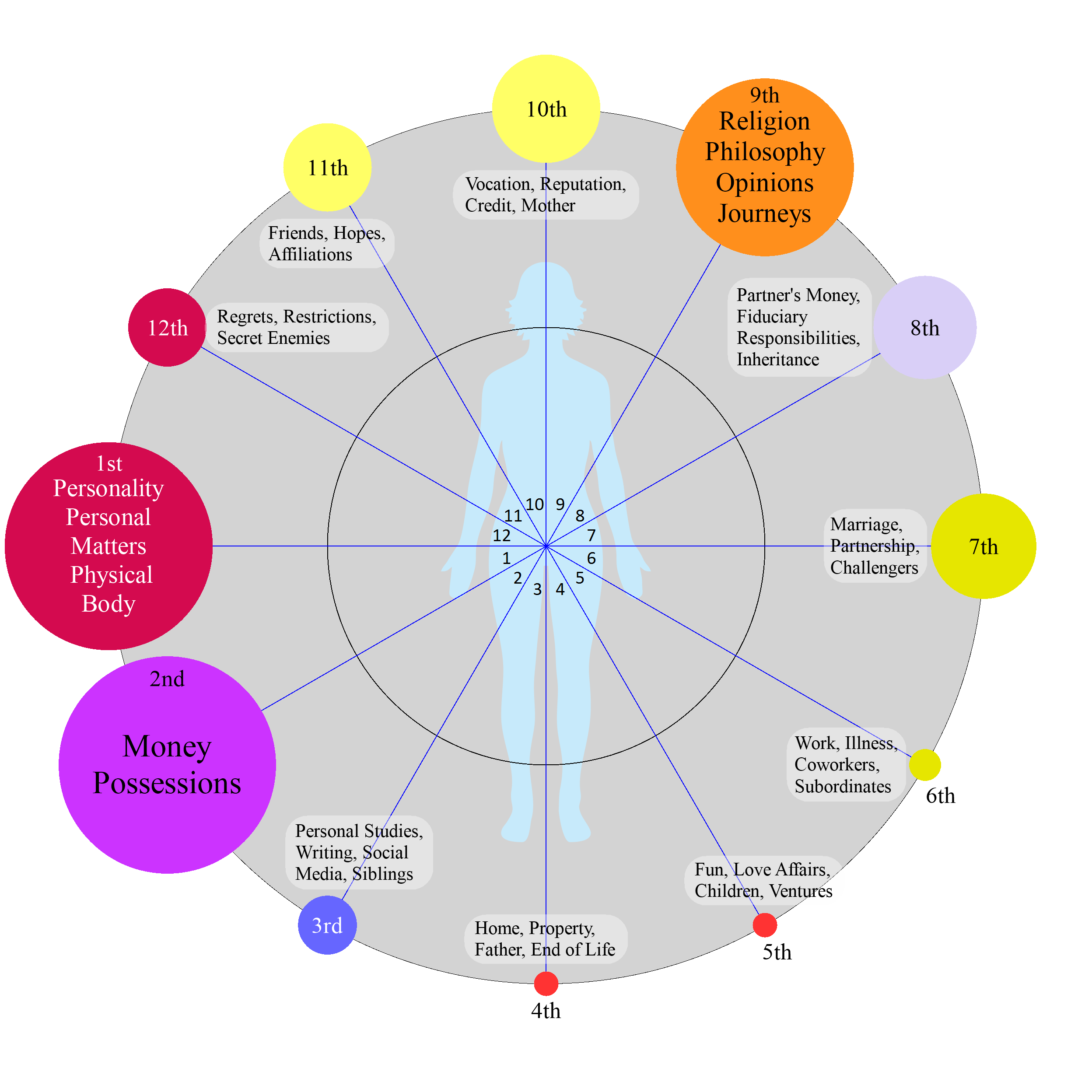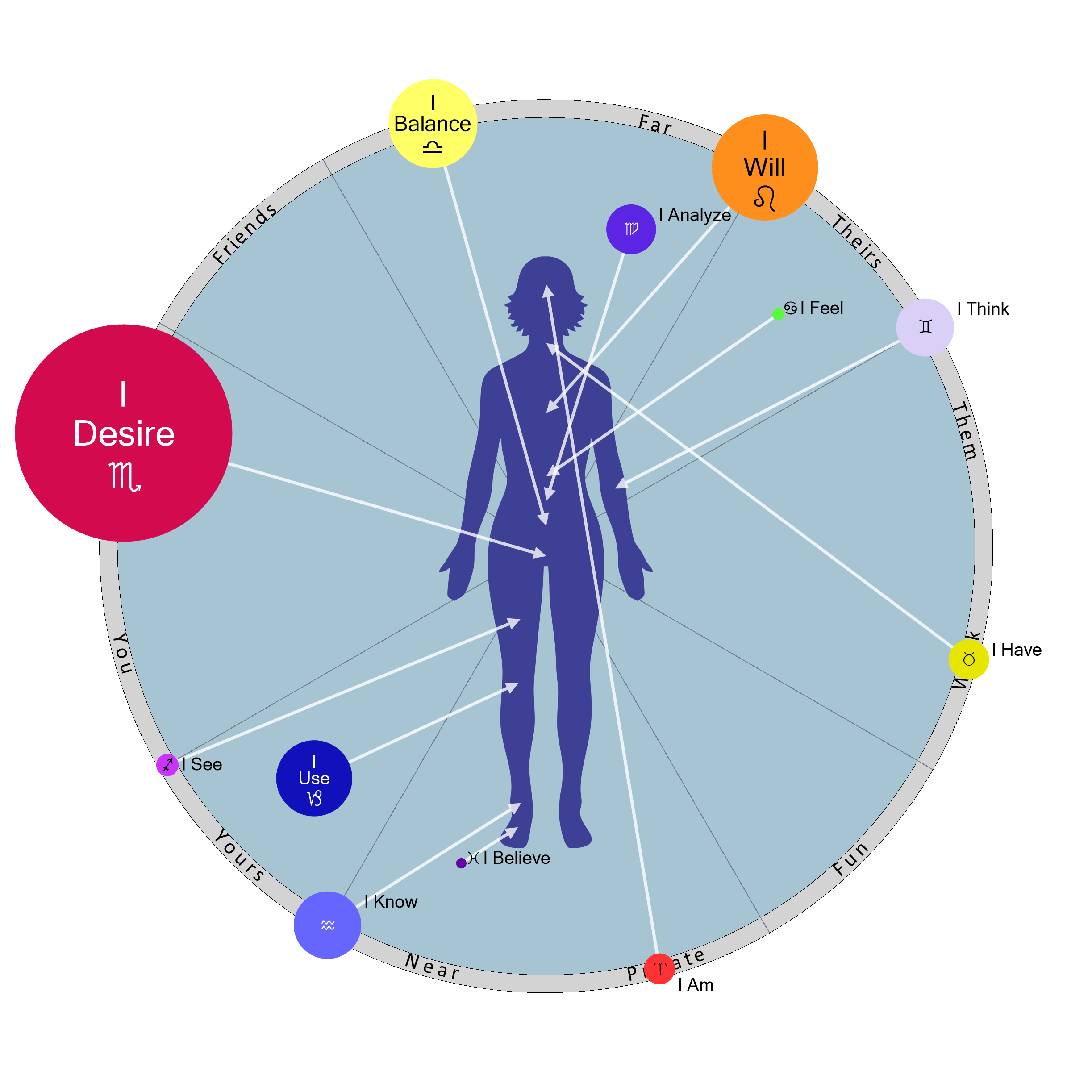 Synastry Comparison Charts
Compare two charts for compatibility: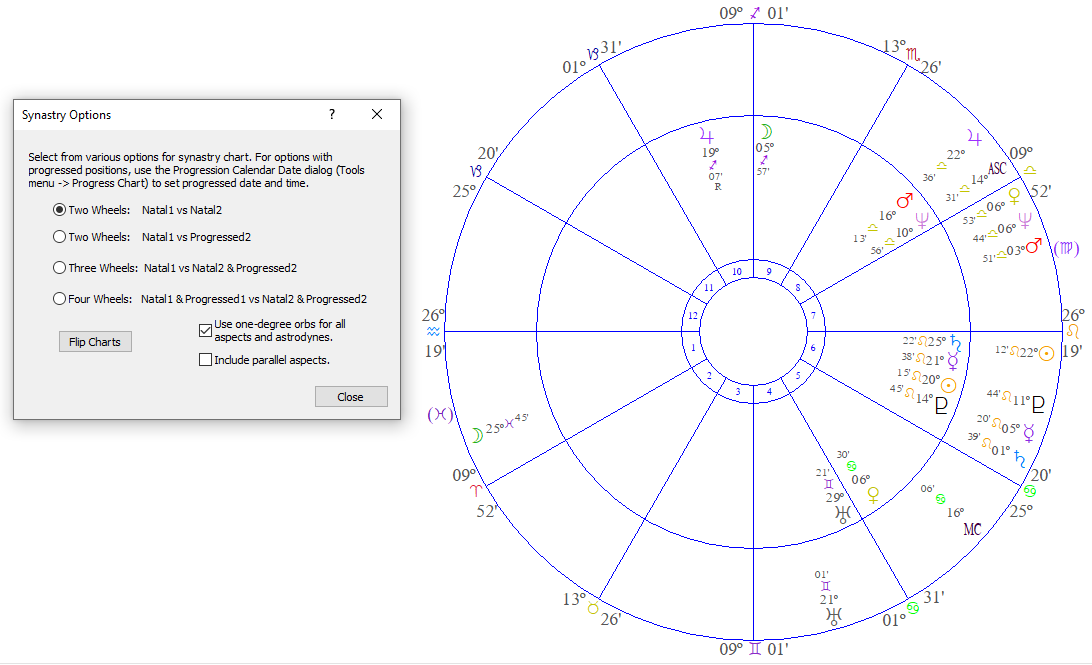 State of the Art Slider Bars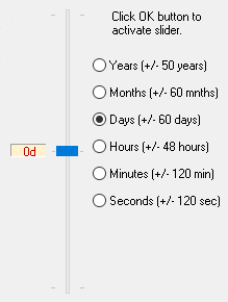 Horoscope provides unique tools not found in other astrology software such as slider bars when creating electional charts (best time to do or start something) or when progressing natal charts.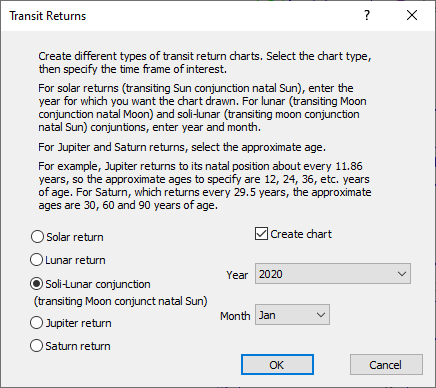 Transit Return Charts
In addition to the many other features in Horoscope 2020, you can now do Transit Return charts for
Solar returns
Lunar and Soli-Lunar returns
Jupiter returns
Saturn returns
using a sophisticated dialog that makes doing transit returns easy! See image to the right.:
Other new features:
The aspect grid now has the option of showing applying and separating aspects on-screen and in printed reports.
There are new chart progression features to simplify displaying the wheels you want to see and a slider bar for adjusting the progression date and time.
Improved dialog for selecting the chart printout features you want to see.
In addition to Copy to Clipboard (for pasting chart elements into other documents like Word, PowerPoint, Adobe InDesign, etc.), you can now export JPEG or PNG images of all the various chart elements including the chartwheel, astrodyne tables, declinations and aspect grid.
Porphyry house cusp system.
Bija (Q1) progression rate for secondary progressions.
General features:
Natal charts
Placidus and Porphyry house systems.
In-Depth Chart Analysis Report with new interactive planet, sign and house energy distribution diagrams. See an example natal chart report here.
Transit Returns
Synastry chart comparison
Easy to use tools for Electional charts for finding the best time to do anything including a "slider bar" for real-time update to chartwheel, aspect grid and astrodyne tables as you drag the slider bar! See Horoscope New Features for detailed description.
Integrated ACS Atlas by Astrolabe with longitudes, latitudes and time changes.
Personal atlas.
Mundane cycle charts.
Natal and Progressed Astrodynes for planets, houses, signs and more.
Summary astrodynes for house and sign groups.
Declinations.
Aspect grid showing astrodyne power and harmony for individual aspects and applying/separating aspects.
Major (secondary) progressions, Minor progressions and Transits now with a new slider bar for updating the progressed chart in real time with the planets moving around the chart as you drag the slider bar!
Bija (Q1) secondary progression rate.
Progression report with many features including Majors with reinforcing Minors and Transit triggers.
Aspectograph for displaying Major (secondary) progressions, Minor progressions and Transits.
Progressed astrodyne power vs. time aspectograph for user selected progressed aspects.
Progressed astrodyne grids for planets, signs, houses, individual aspects and natal and progressed terminals showing current progressed power and harmony, peak power and harmony, relative harmony and reinforcement power of Minors.
Printed reports include:

Chart with declinations, progressed movement table, natal astrodynes and aspect grid.
Progression/transit report in two formats.
Aspectographs (time line and progressed power history).
Progressed astrodyne chart graphs for planets, signs, houses, and natal and progressed terminals showing progressed power and harmony, relative harmony and reinforcement power.
Detailed chart analysis report.

Spreadsheet output.
Copy to Clipboard and create PNG or JPEG image files for the various chart elements: chartwheel, aspect grid, astrodyne tables, declinations and summary progressed astrodyne report
User-selectable color for wheels, planets and signs.
User-selectable aspect orbs and astrodyne constants.
Publishing features such a Copy to Clipboard and Object Linking & Embedding (Windows OLE) for embedding charts and tables in OLE-compatible applications like Word, Excel, PowerPoint, Adobe Illustrator, Adobe InDesign, etc.
Ease of use features like Default Place for quick charts and Default Folder for saving charts.
Expanded Help topics to aid in chart delineation and creating chart analysis reports.
General specifications:
House Systems: Placidus, Porphyry
Geocentric
Tropical zodiac
User selectable aspect orbs and astrodyne constants.
Chart interpretation: In-depth chart analysis report.
Latest Delta T Predictions from the U.S. Naval Observatory.
Reviews...
I have been an accredited professional astrologer since 1978. My first professional level computer program for astrology that would calculate an accurate, timed to the minute astrological chart, ran on a Commodore 64!!! LOL.
The Church of Light's latest astrology software is, in a word, amazing! The Chart Analysis Report covers all aspects of a chart, so that anyone… anyone! can read and understand their own chart in great detail!!! Plus, the Synastry Chart Comparison tools; the ease of creating a solar, lunar, soli-lunar, Jupiter or Saturn return chart, and the highlighted applying aspects which make them so easy to immediately spot, are all beyond compare!
And the slider bar!!! Oh my! I can create an Electional chart with ease, or work with rectification of a birth time, without needing to run a bunch of separate charts! This software is truly revolutionary! Nothing else like it!"
- Janet Bowman Johnson, PMAFA
Wow! I LOVE this program! I'm relatively new to astrology and Horoscope 2020 is just what I need. It's easy to use but powerful enough for the most advanced astrologers. As a student, the Chart Analysis really helps me understand the basic principles while tying it all together in a way that is easy to understand. I've tried online systems and other applications. Nothing is this easy and intuitive. This is by far the best tool I've found. Every astrologer, from beginner to professional, should have this program.
- Jimmy McDonnell, St. Louis
..anticipation over...I downloaded the update for Horoscope program as soon as I had got home from work and had a bite to eat. I was then lost for approx 6 hours checking out the new facilities, the chart analysis report features, and the instruction/tutorial videos that you deliver in such a fantastic and professional way...just one word may suffice.... AWESOME!!!!
- Tim Prichard, Coventry, UK
For a start, I have just been playing around creating Chart Analysis Reports. My goodness: they are incredible! I have only skimmed the surface of the Report based on my birthchart and it has blown my mind. So much incredibly detailed information. And it is so practical! Wow. I'm looking forward to investigating this Report in more detail, and exploring the other fantastic features that are now available. The software is so incredibly powerful...
- Karen Moore, Australia
What a wonderful piece of software + accompanying tutorials + comprehensive help suite. I have a good grounding in Hellenistic astrology, and (less so) in Babylonian and Jyotisa too, so astrodynes make a lot of sense to me, and you have done a super job in integrating EB's teachings. Facing the endless complexity of a chart, the program offers a unique, clear and very efficient path to delineation.
- M Tapnack, Illinois
I love the program! How did I exist without progressed astrodynes? The Horoscope program is smooth and easy to use. The natal and progressed astrodynes are like an astrology shorthand: They get you into the reading quickly. Clients love the immediate information that astrodynes provide. The addition of progressed astrodynes give the astrologer timely information that has real relevance in the client's life. I just love this program and highly recommend it.
- Alicemarie O'Neil, Hawaii
I believe that the Horoscope Program (version 3) represents a new benchmark in astrological software. Its powerful tools calculate precisely not only natal but progressed power, harmony and discord in the birth chart. In other words, it removes the guess work and replaces it with precise astrological information providing the astrologer with exactly the power, harmony or discord of every progressed and natal planet. It shows every progressed aspect in operation in terms of its power, discord and harmony for the date under inspection.
The 'Aspect Power-Time graph' is an amazing graphic that illustrates the reinforcing power of Minor progressions as they add additional power to the Major (Secondary) progressions in force. This enables the astrologer to tell at a glance just when events are likely to occur. The new Horoscope Program is full of user-friendly visual graphics like this that help the astrologer assess and comprehend the information it provides. Should you need help, then just hit F1 on the keyboard. It is as simple as that.
Without doubt, as someone who has tried many different astrological programs in the past, this one beats the lot. If you are a professional or just aspiring to learn this science and art, I whole heartedly recommend this program.
- Mikael Salter, Swindon Wiltshire UK
I have been using versions of this software since Book 10 in the Church of Light (CoL) Coursework and found it greatly added to my understanding of both astrology and its interrelationship with life. I have also found this software to be an indispensable tool in making the best use of Zain's approach with Astrodynes as a key component of chart analysis. The software is appropriate for both beginners and advanced users offering all that is needed to complete your astrological studies and present a professional report to clients. The recent addition of the Chart Analysis Report, just one of the many recent feature upgrades, adds an additional layer of information and perspective to your personal interpretations. The author's continued work to enhance the software, adding new features consistent with Zain's philosophy, was a key consideration for me when I chose this package and continue to use as my primary astrology tool. I would highly recommend this software for anyone presently in the CoL courses but also to those wishing to explore the CoL's approach to Astrology.
- A. Gatlin, Vista, CA
I have both used and also enjoyed the Horoscope program for many years. I've used other astrology software as well. The Horoscope program is in my opinion the best on the market because it is the only one that calculates Astrodynes, which is essential information that every astrologer should have. Astrodynes show the power, harmony, and discord of planets, houses,signs, societies, trinities, elements, and qualities. Like I said, every astrologer should have this information, but it is a must have for all hermetic astrologers. Paul Brewer, who is one of the best astrologers and the creator of the Horoscope program, has now hit a Grand Slam by coming out with the new and improved version which now includes calculations of progressed Astrodynes as well as a link to video tutorials on the help menu. These tutorials explain all about progressed Astrodynes as well as using the Horoscope program. I recommend the new Horoscope 2016 program to each and every astrologer and person interested in astrology. Thank you Paul for creating this wonderful program!
- Doug Heimbichner, Carmichael, CA
I highly recommend this software program! The new version of Horoscope is your one-stop-shop for calculating natal and progressed charts including aspect grids and Astrodyne reports. The Astrodyne report, with various ways to summarize the information, is invaluable because it has given me a precise and accurate starting point to present the client's strongest motivating urges (either harmonious or discordant) during the reading. This helps individuals to live more meaningful lives because they become empowered to make conscious and powerful decisions for themselves.
I am able to run the PC based Horoscope software on my MAC because I installed Windows for Mac and Parallels. It was easy!
- Kay Packard, M.A. Shell Beach, CA
The Horoscope software is such a cherished tool for assessing and evaluating astrological charts! Here is a no-frills way of mapping planetary positions Tropically [in the Placidus format], uncomplicated by extraneous additions like mathematical points or myriad asteroids. Yet, a bare-bones chart can be complemented by the in-depth, extremely helpful method of assessing power, harmony and discord--called the Astrodynes—rating all of its chart features. And this latest edition of the software includes the opportunity to apply Astrodyne assessment to progressions, as well! This makes the latest Horoscope program an even more empowered, quintessential, and elegant tool to help us understand the most important considerations to emphasize in our interpretations, even at a glance.
- Lara Hill, Albuquerque NM
As Membership Minister for the Church of Light I have working with the Horoscope Program for many years. Paul Brewer has done a tremendous job developing it over many years and it as now evolved into something that is unsurpassed. The various reports in the program are tremendous tools for self-discovery and understanding ways to harmoniously grow. The program is a great compliment to our 21 courses of study.
- Patrick A. Ramsey
The revised version of Horoscope 2020 has added many new and helpful features. I particularly like the in-depth natal interpretation report which, in addition to providing astrodynes to describe the power and harmony or discord of the planets by sign, house, and aspect, it analyzes complex patterns such as T-squares and opposition drains and most importantly shows the conciliating sextiles and trines that can help these aspects express in a more positive direction. This level of analysis is a great aid to the professional astrologer in counseling his/her clients. In addition, it would prove very helpful to beginning students. I am unaware of any other program that does this. I have used most of the astrology programs on the market during my more than 40 years as an astrologer. I also like using the astrodynes for relocated natal charts in assessing the best places to live in comparison to the natal birth location.
Another one of my favorite features in the program is the addition of the bija corrected secondary progression. The brilliant astrologer and physicist, Edward Johndro pointed out in 1929 that astrologers were calculating secondary progressions incorrectly (p. 118, The Earth in the Heavens). He recommended that rather than using a solar day= 1 year, a sidereal day should be used. A sidereal day is slightly shorter than a solar day by 3" 56' of ST and has a diurnal rotation of 360 degrees. Thus, the 360-degree diurnal rotation of a sidereal day can be equated to the 360-degree revolution of the apparent sun through the zodiac each year. In contrast, a solar day has a diurnal rotation of 361 degrees and should be equated to 366.24 days rather than 365.24 days. As a result of this discrepancy, the standard method of calculating secondary progressions ( a solar day= 365.24 days) come due 1 day too early for every year of life. Thus, for a person who is 60 years old, the calculated secondary progressions come due 60 days too early. Cyril Fagan later called the sidereal day = a year progression a bija corrected progression. In my 10 years of using bija corrected progressions, I find them more accurate than the standard method. In this system, even the timing of the progressed moon has proved to be very accurate. This was not the case when a solar day was used.
Another unique feature of this program is the option to show the reinforcing minor progressions and transits for each major progression. This is a very important predictive feature for timing when events are most likely to happen. I also use this feature to help me select elective dates.
- Ronald Tiggle, Asheville, NC