Magic
2017 Church of Light Conference
June 21-25, 2017
Albuquerque, New Mexico
This five day fun-filled and informative conference includes two days of pre-conference tours, a pre-conference intensive on the late 19th century American awakening of interest in Western esoteric traditions, and two full days of speakers focused on the intriguing subject of Magic in the tradition of The Brotherhood of Light.
At this years conference you will discover how the mind yields influence over one's physical environment and how it's possible to direct this influence toward living a happier, more successful and spiritual life.
Church of Light Conferences are a wonderful opportunity to meet like-minded people who share your interest in The Brotherhood of Light teachings.
---
Intriguing Topics - Inspiring Speakers
---
Schedule Highlights
Pre-Conference Tours: For those of you who are planning to make New Mexico your vacation destination, we have organized two exciting day trips.
Pre-Conference Tours:
Wednesday, June 21 and Thursday, June 22
Pre-Conference Meetings:
Friday, June 23
Conference Day 1: Saturday, June 24
Conference Day 2: Sunday June 25
---
Meeting Location: The Best Western Rio Grande Inn,
Sandia Room
---
Accommodations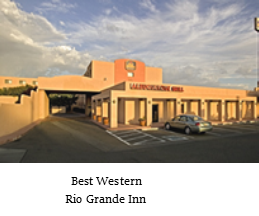 By popular demand we have again chosen the Best Western Rio Grande Inn to host our 2015 Conference. Located in Albuquerque's historic Old Town district, this classic Southwestern inn offers warm hospitality, cool drinks, and excellent regional cuisine. The Inn is walking distance to numerous unique shops, restaurants, galleries, and museums.
A complimentary shuttle is available to transport you to and from the Albuquerque Sunport, Old Town Plaza, the Albuquerque Biopark and numerous museums.
Our special conference 2017 rate is $88 a night (plus tax) for up to four adults to a room.
The group rate will expire May 20, 2017; we strongly recommend making your reservation in advance.
Please call (800) 959-4726 to make your reservation, to receive our special group rate be sure to identify yourself as a Church of Light member or friend.