2015 Sun cycle
DW Sutton
The astrological year commences when the Sun enters Aries on March 20, 2015 at 10.45.08pm UT. And a country's Sun cycle chart provides a forecast model of general events and conditions for the chart's 12 month duration.
In the chart the Sun is conjunction (prominence) Moon – planet of the everyday people and civilians; sesquisquare Jupiter (agitation) Jupiter – planet of finances, banks, trade, religion and expansion; and trine (luck) Saturn – planet of security, economy, austerity, fear, hardship and suffering.
The chart's power-markers are: Moon (the everyday people) conjunction (prominence) Uranus (extremism and radicalization); Mars (strife and conflict) conjunction Uranus (social unrest, protests and extremist violence); Moon (the common people) trine (luck) Saturn (security measures and austerity); Moon trine (luck) Jupiter (good-will, benevolence, mercy and optimism); Jupiter (financial matters and religion) trine Uranus (change and reform); and Mercury (talk and controversy) conjunction Neptune (schemes, oil, gas, drugs, inflation, aviation and socialism).
This is a general events chart that operates in a busy cycle chart environment. The planets by their house positions, rather than forecasting specific events, give trends to national affairs that are more precisely defined by important events that are forecast in the major cycle charts.
2015 Sun cycle chart – Washington: March 20, 2015 at 5.45.08pm EST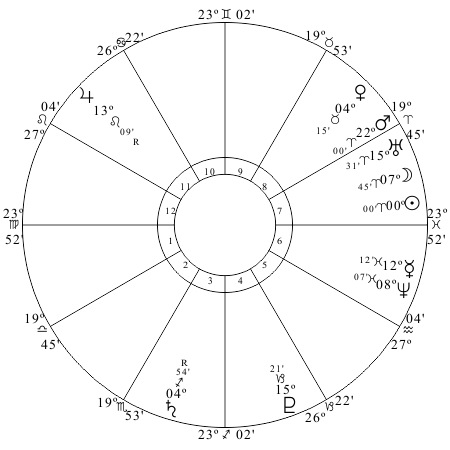 In the Washington Sun cycle chart the Sun, Moon and Uranus are in house 7. It dominates the chart and turns attention to off-shore events and what is happening overseas. The thought trend influencing the house 7 agenda – foreign relations, foreign policy, open enmity and war – is defined by politics (Sun), the common people (Moon) and radical extremism (Uranus). The Moon is the dominant influence and the common people are politically active in their fight against the extremist violence (mapped by Mars conjunction Uranus). And with Mars in house 8 the thought trend influencing house 8 – death, debt and taxes – is defined by militarism. Mars in house 8 conjunction Uranus in house 7 marks for the violent deaths of US citizens by extremist enemies; and these events will define how America participates in the world during this astrological year.
Mercury (talk and controversy) is conjunction Neptune (schemes) in house 6. This prominence thought compound gives the affairs ruled by house 6 – labor and work-force, working conditions, army and navy personnel, sickness, eating habits and medical services – a trend defined by the actions of the press and idealism. Schemes to send American soldiers to fight in foreign wars will ignite controversy and debate.
Saturn in house 3 is the planet of fear. It gives the affairs ruled by house 3 – roads and transportation; rail services: postal service; email and the words written by journalists, writers and the tweeters on twitter – a trend defined by fear, orthodoxy, conservatism, contraction and loss. Saturn marks for loss and strained relations with a neighboring country.

Jupiter in house 11 is the planet of money, religion and expansion. It gives the affairs ruled by house 11 – Congress, friends and supporters – a trend defined by capitalism, finances, commerce and the profit motive. Congress is in a benevolent frame of mind – an up-beat optimistic mood – and is intent on doing good.
And Pluto, the planet of cooperation and coercion, is in house 4. It gives the affairs ruled by house 4 – the Republicans, housing sector, homes and buildings, the farmer and miner, and weather events, natural disasters and environmental issues – a thought trend defined by compulsory cooperation. The Republicans will be forced to cooperate on certain environmental issues. Pluto marks for drastic weather events.
There are no planets in houses 1, 2, 5, 9 and 12 and their affairs have a reduced potential to influence America's global influence during 2015.
This Sun cycle chart maps en emerging potential that has its foundations in the current state of play. Precise prediction simply requires an accurate understanding of the forecast model and thorough knowledge of the US domestic agenda and what's happening now.
Events occur as the Sun by transit forms aspects to the planets in the chart but rather than mapping independent events these aspects fine-tune the timing of events mapped by aspects in the major cycle charts. This means that when transit Sun in its cycle aspects Mars and there's an aspect in the Mars cycle the Sun-Mars aspect fine-tunes the timing of the Mars event; and when transit Sun aspects Uranus and there's an aspect in the Uranus cycle the Sun-Uranus aspect fine-tunes the timing of the Uranus event. Events occur under a cumulative build-up of energy and a Sun aspect in the Sun cycle very often provides the tipping point for an event mapped in a major cycle chart. The main aspects to track in the chart are the conjunction, opposition, square and trine. This Sun cycle provides a forecast model of global trends and events to March 20, 2016.

Copyright DW Sutton, 2015. All rights reserved. light.org