Global events forecast: January 20 – February 18, 2015
DW Sutton
The Aquarius new-Moon occurs January 20, 2015 at 1.13.41pm UT and a country's lunation chart provides a forecast model of events for the period January 20 to February 18, 2015. The Sun-Moon lunation is sextile (opportunity) Saturn – planet of security, long-range planning, hardship, unemployment, loss and despair. Sun is parallel (intensity) Pluto – planet groups, cooperation, coercion, propaganda, kidnapping, sieges and globalization. Moon is parallel (intensity) Mercury – planet of talks, conferences and controversy – and Jupiter – planet of finances, currencies, capitalism, trade, profits, growth and religion.
Washington lunation chart – January 20, 2015 at 8.13.41am EST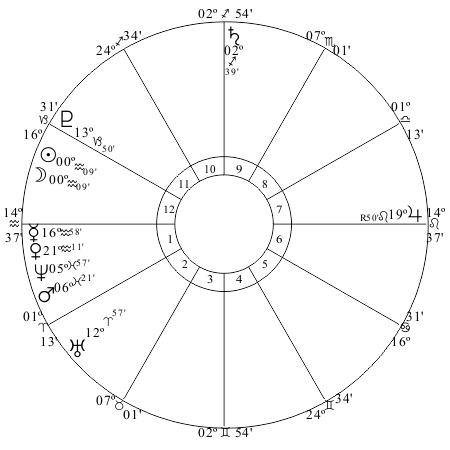 In the Washington chart the Sun-Moon lunation is in house 12 – secrets, behind the scenes activity, the CIA, crime, criminals, goals, hospitals, secret enemies, displaced persons and refugees. Saturn in house 9 – court cases, legal decision, trade, religion, radio, television and internet – marks for trade deals, tough justice and conservative court decisions.
The Aquarius new-Moon occurs 13 hours after the Mars-Neptune conjunction aspect in the sky so Mars-Neptune events can influence the proceedings during this lunation. In the Washington chart the Mars-Neptune conjunction is in house 1 – the people and their welfare.
Aquarian Age chart update
Progressed Sun moved to form an opportunity (sextile) aspect with birthchart Jupiter in October 1914. The aspect will be at its peak power and harmony on October 27, 2015. Jupiter is the planet of trade, trading blocks, trade agreements, banks, currency values, expansion, legal matters, courts, The World Court, religion, hope and optimism and the sextile aspects supports fortunate Jupiter events and developments. Jupiter provides a religion and ethics report, a law report and a financial report.
Progressed Sun moved to form an obstacle (square) aspect with birthchart Uranus on December 26, 2014. The aspect will be at its peak power and discord on December 1, 2015. Sun is the planet of politics, politicians, political policies and world leaders. He's in charge of the show – the means by which those with elected political power take their constituents into the future. Uranus is the planet of discontentment, social unrest, strikes, protests, demonstrations, revolutions, extremism, extremists, radical action, freedom, liberty, reform and technology. And 2015 will be a year marked by sudden political changes, unexpected political developments, discontentment with political leaders, extremist politics, extremism, social unrest, the cry for freedom and liberty and revolutions and uprisings.
Progressed Moon is parallel progressed Saturn – end date is March 9, 1915
Cycle chart update
In the Pluto cycle Pluto semisextile Mercury ends on February 1, 2015. In the Neptune cycle Neptune is inconjunct Pluto on February 13; Neptune square Uranus ends on January 24; and Neptune conjunction Mercury starts on February 15 – peak date is March 13, 2015. In the Uranus cycle Uranus moves to form a friction (semisquare) aspect with Neptune on February 13 – peak date is March 6, 2015. In the Saturn cycle Saturn is parallel (intensity) Jupiter, Mercury and Uranus. On February 11 Saturn moves to form a trine (luck) aspect with Saturn – end date is April 14; on February 14 Saturn moves to form a sextile (opportunity) aspect with Mars – end date is April 12. The Jupiter cycle is very active with 7 aspects formed and there are 13 aspects formed in the Mars cycle. Mars events will occur 36 hours before or after aspect's peak date. Events mapped by Sun aspects in the Sun cycle will occur on the date indicated.
Global events forecast January 20 – February 18, 2015
Neptune is inconjunct Pluto in Neptune cycle – idealistic cooperation, visionary groups, idealism and spirituality, deception and coercion, fraud and corruption, drugs and organized crime, oil groups – OPEC, oil used a coercive weapon, (Hollywood coercion – The interview), drastic developments for an airline > peak date is February 13.
January 23: Mars is square Jupiter in Mars cycle – financial strife, currency turmoil, religious inspired violence, the high cost of disasters, fires and accidents
January 24: Jupiter is parallel Sun in Jupiter cycle – governments and banks, money matters, trade deals, optimism and expansion > end date is February 2
January 26: Jupiter parallel Mars in Jupiter cycle starts – financial/currency turmoil, trade disputes, killing and destruction by God's soldiers, religious inspired violence, religion and hate, religion and sex, churches are burning > peak date is February 20
Mars is semisquare Moon and trine Saturn in Mars cycle – domestic/family violence, the killing of civilians in the war zones, hate and fear, anger and despair, harshness and austerity, poverty inspired violence, destructive weather events
January 27: Mars is sextile Pluto in Mars cycle – aggressive cooperation by groups, energetic collaboration, spiritual warriors, terror attacks, group accidents
January 29: Jupiter sesquisquare Jupiter in Jupiter cycle starts – extravagance, financial problems, a currency crisis, problems for the banking sector, disturbing religious news, misguided hope and optimism > peak date is February 6
Mars is parallel Mercury in Mars cycle – inflammatory words, war talk, strife and controversy, journalists are in harms way, accidents and fires
January 31: Sun is sextile Uranus in Sun cycle – strikes and protests
February 1: Pluto semisextile Mercury in Pluto cycle ends
February 2: Jupiter sextile Saturn in Jupiter cycle starts – cautious-optimism, the financial sector economizes, financial markets stabilize, trade deals, financial help for the farmers, financial austerity, hope and fear, religious conservatism > peak date is February 10
Sun is conjunction Venus in Sun cycle – social news and peace moves
February 4: Sun is parallel Saturn in Sun cycle – political conservatism, the price of gold falls, cautious confidence, austerity measures, cuts and restraints, despair
February 5: Mars is parallel Venus in Mars cycle – attacks on women, social violence, girls with guns, fighting for peace, accidents and fires
February 6: Jupiter is sesquisquare Jupiter in Jupiter cycle – see January 29 for event forecast trend > end date is February 13
Sun is square Moon in Sun cycle – home and family life issues
February 7: Jupiter sesquisquare Venus in Jupiter cycle starts – social extravagance, record prices at the art auctions, religious leaders cry out for peace, women and the church, expensive social outings, financial difficulties for the fashion industry > peak date is February 15
Mars is conjunction Venus in Mars cycle – social strife, an attack on a woman, a spike in violence in the war zones, fights, arguments, accidents and fires
February 8: Jupiter opposition Sun in Jupiter cycle starts – bankers and politicians, financial/currency problems, government spending, rising prices, big problems for church leaders, misguided hope and optimism > peak date is February 15
February 9: Jupiter opposition Mars in Jupiter cycle starts – financial strife, turmoil for the financial sector, money wars, currency catastrophes, attacks on banks, trade wars/disputes, religious violence, atrocities by God's soldiers, attacks on the church, accidents and fires > peak date is February 17
February 10: Jupiter is sextile Saturn in Jupiter cycle – see February 2 for event forecast trend > end date is February 18
February 11: Saturn trine Saturn in Saturn cycle starts – security issues, care and caution, calls for restraint, austerity measures, fear and loss, unemployment and poverty, help for farmers in the drought regions, natural disasters > never peaks > end date is April 14
February 12: Mars is conjunction Sun in Mars cycle – a dangerous moment, a spike in the fighting, the politicians are warmongering, an attack on a world leader, political strife, angry politicians, harsh politics, fires and accidents
Sun is square Saturn in Sun cycle – calls for caution and restraint
February 13: Neptune is inconjunct Pluto in Neptune cycle – see start of report for event forecast trend > end date is March 11
Uranus semisquare Neptune in Uranus cycle starts – social unrest, strikes, protests and demonstrations, uprisings and freedom fighting, radical idealism, the freedom and democracy dream, technology and oil, radical moves by the oil produces, aviation reforms, radical new drug treatments > peak date is March 6
February 14: Saturn sextile Mars in Saturn cycle starts – land disputes, security initiatives, austerity and anger, fear and rage, fighting disease, destructive weather events, natural disasters > never peaks > end date is April 12
Mars is parallel Sun, semisextile Moon and sesquisquare Saturn in Mars cycle – a political leader is on the warpath, a spike in the fighting, strife and violence, shootings, grief and despair, accidents and fires
Sun is trine Mars and sesquisquare Jupiter in Sun cycle – strife and finances
February 15: Neptune conjunction Mercury in Neptune cycle starts – oil talks and conferences, controversial schemes, major announcements by an airline, deceitful journalists, fiction writing, a Hollywood controversy, drugs, chemicals and poisons, lies and fabrications, a great deception > peak date is March 13
Jupiter is sesquisquare Venus in Jupiter cycle – see February 7 for event forecast trend > end date is February 23
Jupiter is opposition Sun in Jupiter cycle – see February 8 for even forecast trend > end date February 23
Sun is semisquare Uranus in Sun cycle – extremist violence/demonstrations
February 17: Jupiter is opposition Mars in Jupiter cycle – see February 9 for event forecast trend > end date is February 25
Sun is parallel Mercury and semisquare Pluto in Sun cycle – talk and controversy, crime, coercion and intimidation
Copyright DW Sutton, 2015. All rights reserved. light.org