March 2013
By DW Sutton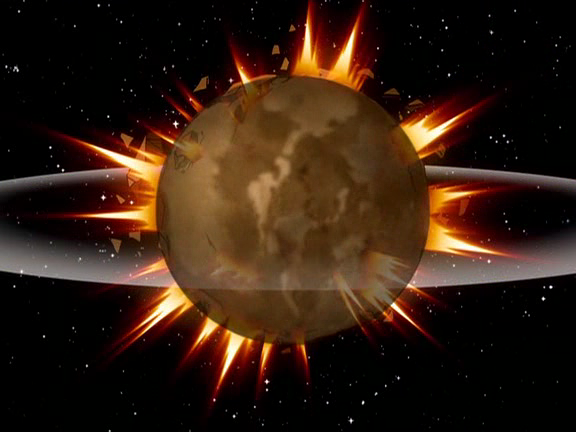 Some months are more eventful than others and March 2013 was more eventful than most. There was the Cypriot Financial Crisis, the selection and inauguration of Pope Francis, and North Korea's provocative actions and nuclear threats. And each of these major international events has its astrological equivalent.
The Cypriot Financial Crisis can be traced back to July 2007 when the GFC is believed to have begun. Five years later, on June 25, 2012, the Cypriot Government requested a bailout from the European Financial Stability Facility and on November 30, 2012 agreement was reached and the bailout terms made public. These included cuts to salaries, social benefits and pensions and increases to taxes and public health care charges.
On February 11, 2013 the Vatican announced that Pope Benedict XV1 would step down as the leader of the Catholic Church. His resignation – which was unexpected as modern era popes have held the position from election until death – occurred on February 28, 2013. The conclave to select his successor began on March 12, 2013.
On February 12, 2013 North Korean state media announced it had conducted an underground nuclear blast – its third in seven years. South Korean officials reported that an artificial earthquake had occurred in North Korea suggesting a nuclear test; Japan summoned an emergency meeting of the United Nations; South Korea raised its military alert status; and North Korea confirmed it had successfully conducted a nuclear device claiming that it was small enough to be weaponized.
In March 2013 three astrological events in the Aquarian Age chart reached a critical tipping point; a new Mars cycle started; Uranus was square Pluto in the Uranus cycle; Uranus was square Pluto in the sky and Mars in the sky moved to form a conjunction aspect with Uranus.
The Aquarian Age Chart
In the Aquarian Age chart progressed Sun – planet of politics, politicians and world leaders (at 10 Gemini) – has moved to form an obstacle (square) aspect with progressed Uranus – planet of sudden changes (at 9 Virgo 44) – and an agitation (sesquisquare) aspect with birthchart Mercury – planet of controversy (at 25 Capricorn). The Sun-Uranus square aspect reached its peak power and discord in April 2012, but major events related to the aspect can occur up to its end date on April 30, 2013. The Sun-Mercury sesquisquare aspect started in April 2012 and will reach its peak power and discord date on April 29, 2013.
In November 2011 the financial deception mapped by progressed Jupiter conjunction birthchart Neptune in the Aquarian Age chart was at its peak. Then in September 2012 progressed Mercury (at 26 Gemini) moved to form a friction (semisquare) aspect with birthchart Neptune – planet of deception, fraud, lies and more lies; and in October 2012 progressed Mercury moved to form a friction (semisquare) aspect with progressed Jupiter – planet of finances, banks and religion (at 11 Taurus). Progressed Mercury semisquare birthchart Neptune reached its peak power and discord date on March 24, 2013 and progressed Mercury semisquare progressed Jupiter will reach its peak power and discord date on May 29, 2013.
A major progressed aspect (in any chart) has a wide time-frame during which major events related to it can occur and stimulation from a minor progressed planet or the major progressed Moon to the birthchart or progressed planets involved in the aspect fine-tunes the timing of the event. On March 3, 2013 the major progressed Moon in the Aquarian Age chart moved to form a semisquare aspect with progressed Sun and on March 27, 2013 it moved to form an opposition aspect with progressed Mercury. And due to this major Moon stimulation events relating to the Sun-Mercury sesquisquare aspect and the other Sun and Mercury progressions were timed to occur between February 19, 2013 when major progressed Moon semisquare progressed Sun started and April 27, 2013 when progressed Moon opposition birthchart Mercury finished. And the events and developments that the Sun-Mercury, Mercury-Neptune and Mercury-Jupiter aspects mapped would involve agitation and friction.
Aquarian Age chart – Cyprus – progressed to March 23, 2013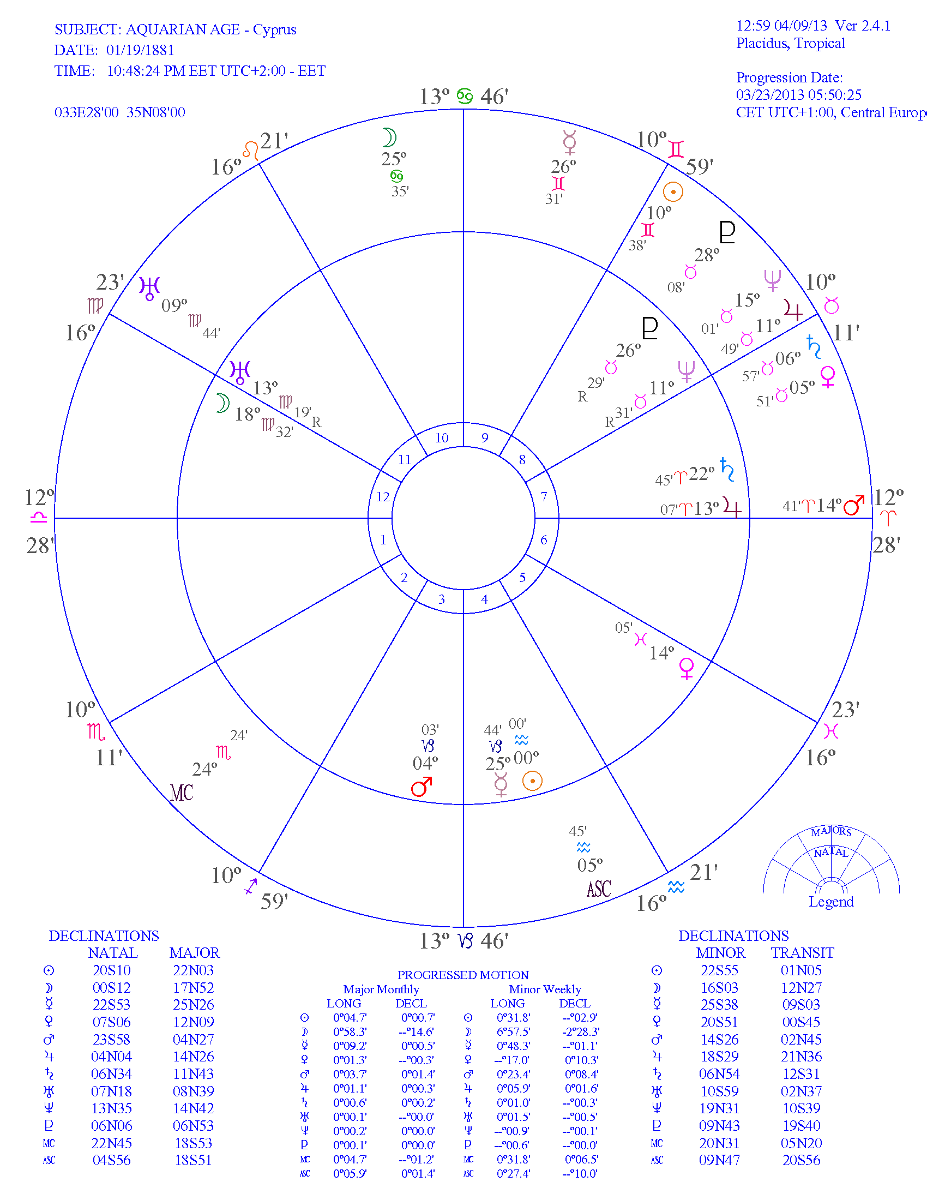 In this chart progressed Sun (at 10 Gemini 38) is in house 8 (other people's money and bailouts) and birthchart Mercury is in house 4 (the homes of the people). Progressed Mercury (at 26 Gemini 31) is in house 9 (new laws and regulations). Birthchart Jupiter is in house 7 (other countries) and progressed Jupiter (at 11 Taurus 49) is in house 8. Birthchart and progressed Neptune are in house 8. Progressed Moon (at 25 Cancer 35) is in house 10 (the President and his administration). Progressed Sun is sesquisquare birthchart Mercury; progressed Mercury is semisquare birthchart Neptune and progressed Jupiter; and progressed Moon is semisquare progressed Sun and opposition birthchart Mercury.
On March 16 The European Commission, the European Central Bank and the International Monetary Fund (Jupiter) agreed to a 10 billion Euro bailout (house 8). The deal required the approval of the Cypriot parliament (Sun rules house 11) and its debate (Mercury) was scheduled for March 18. The President warned that failure to ratify would lead to 'disorderly bankruptcy' (Saturn); the Cypriot people took to the streets protesting (Uranus) the one-off bank deposit levy of 6.7% for deposits up to 100,000 Euros; the Russian Government (house 7) blasted the one-off bank levy of 9.9% for deposits over 100,000 Euros; and on March 19 the Cypriot parliament rejected the deal.
Then on March 23 parliament approved 3 bills aimed at raising enough money to allow the country to qualify for the broader bailout package and on March 25 there was final agreement. The Cypriot authorities accepted the closure of the Laiki Bank and there was to be no levy on bank deposits under 100,000 Euros. The banks finally opened on March 28 and the Cypriot people were able to access their personal finds. The country's financial collapse had been averted (Jupiter).
The Aquarian Age chart has a global influence and the resignation and selection of a new Pope is a big international event. It influences over one billion Catholics. And because every Aquarian Age chart is localized by time and place the same progressions in each chart influence different houses and their mundane agendas.
Aquarian Age chart – Vatican City State – progressed to March 19, 2013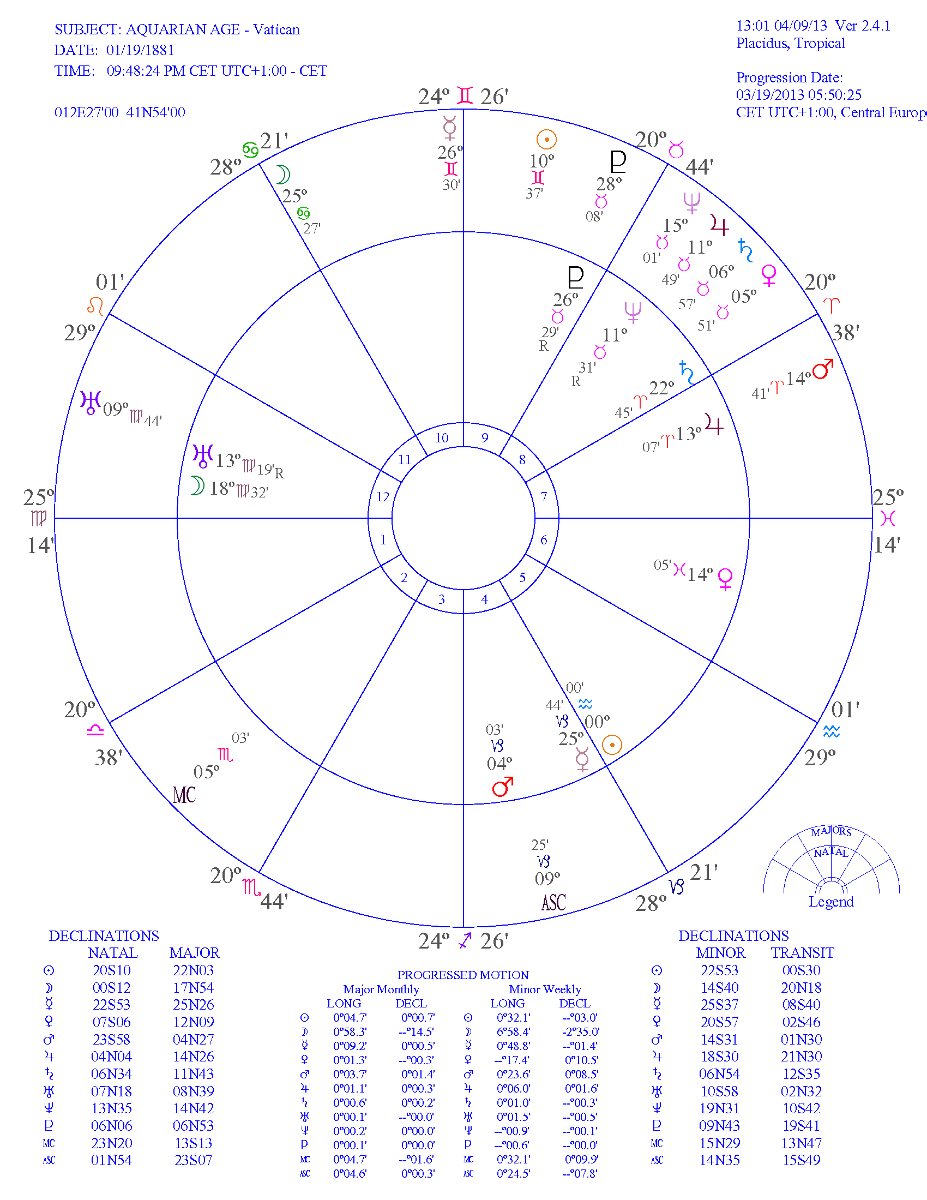 Jupiter is the planet of religion and in the Aquarian Age chart for the Vatican Jupiter is in house 7 (the international community and open enemies). Progressed Jupiter is in house 8 (the congregation's money). Birthchart Sun is in house 5 (children and sex) and progressed Sun is in house 9 (tourists, pilgrims, legal matters and television). Birthchart Mercury is in house 4 (the base of operations) and progressed Mercury is in house 10 (the Pope and his administration). Progressed Moon is in house 10. Progressed Sun in house 9 is sesquisquare birthchart Mercury in house 4; and progressed Mercury in house 10 is semisquare birthchart Neptune and progressed Jupiter in house 8. Progressed Moon in house 10 is semisquare progressed Sun and opposition birthchart Mercury.
On February 28, 2013 Pope Benedict stepped down and the Catholic Church was without a leader. On March 12 the conclave to select his successor began and on March 13, 2013 Jorge Mario Bergoglio – Pope Francis – became the Bishop of Rome and the 266th leader of the world's Catholics. On March 14 the Vatican was in damage control denying claims that Pope Francis failed to speak out against human rights abuses during Argentina's military dictatorship. And on March 19 hundreds of thousands of people attended the papal inauguration ceremony in Rome's Saint Peter's Square.
This was essentially a Jupiter event but it seems that Mars, Uranus and Pluto wanted to get in on the show. Pope Benedict's resignation was unexpected (Uranus) and Pope Francis was the first Latin American and first Jesuit Pope (Uranus). Huge crowds of people (Pluto) thronged to the Vatican to take part in the celebrations and there was an atmosphere of great excitement (Mars). On March 19 Uranus was square Pluto in the Uranus cycle and Mars was conjunction Uranus in the sky.
The New Mars Cycle
On March 14, 2013 a new Mars cycle commenced with events in Rome hogging the spotlight. It arrived with the usual mayhem, death and destruction. In Baghdad a string of coordinated car bombs (Mars) and suicide bombers (Pluto) killed at least 25 people. In Cancun, Mexico gunmen (Mars) stormed a bar killing 7 people. In Kashmir five Indian soldiers (Mars) were killed and in northern Afghanistan a suicide bomber killed 10 people. There were accidents, fires, shootings and plane crashes. In Mexico 16 people were killed in a fireworks accident (Mars); in Herkimer Country, New York four people were killed in a shooting spree; in Saudi Arabia seven men were executed (Mars) for theft; and in Sydney, Australia police (Mars) raided motorcycle gangs (Pluto) arresting high-ranking members and seizing explosives (Mars) guns (Mars) drugs (Neptune) and cash (Jupiter). On March 13 North Korea confirmed that it has shredded the 60 year old Korean Armistice Agreement that ended the Korean War, and warns that the next step will be an act of 'merciless' military retaliation.
On March 14 The National People's Congress names CPC General Secretary Xi Jinping the new President (Sun) of the People's Republic of China. And in Britain David Cameron announces that talks (Mercury) between him and the leaders (Sun) of the other main political parties in the UK on the recommendations of the Leveson report have broken down (sesquisquare aspect). On March 19 Cameron publishes a Royal Charter on press (Mercury) regulations (Sun).
On March 19 a series of bombings and shooting (Mars) across Iraq kill at least 98 people and injure 240 others. On March 20 Barack Obama (Sun) begins a four-day visit to the Middle East visiting Palestine and Israel; and in South Korea major TV stations (Pluto) and bank computers (Pluto) are under cyber attack (Pluto). (Uranus was square Pluto in the Uranus cycle.) On March 21 Australian Prime Minister Julia Gillard (Sun) calls a leadership spill and retains her leadership. It was all very sudden and bizarre (Uranus), but bills to curb the power of the press (Mercury) were defeated in parliament. And North Korea, in response to the use of nuclear-capable B-2 bombers by the US in joint (Pluto) military drills (Mars) with South Korea, threatens to attack American bases in Japan.
Mars Conjunction Uranus In The Sky
On March 22 Mars was conjunction Uranus in the sky. In the United Kingdom the weather is on steroids with heavy snowfall and torrential rain. In Thailand a fire (Mars) in a refugee camp kills at least 45 Burmese refugees. And in Britain there's a meat (Mars) adulteration scandal with horse meet imported from Hungary being labeled beef.
On March 23 the Pakistan Taliban threatens (Pluto) to assassinate (Mars) former President Pervez Musharraf (Pluto) if he returns to the country. (He returned on March 24.) In the Philippines an Australian man kidnapped (Pluto) by an al-Qaeda linked group (Pluto) is freed after a ransom is paid. In the Central African Republic all non essential United Nations staff (Pluto) are removed as rebels and government forces engage in running battles in Bangui .In Pakistan's Punjab province 23 people are killed in a road accident. And in the Dominican Republic authorities arrest 35 people including military, police (Mars) and customs officials in a drug (Neptune) bust.
On March 24 a suicide bomber in North Waziristan kills 17 soldiers (Mars) at a Pakistani military checkpoint. In Northern Nigeria 25 people are killed in coordinated attacks by unidentified men armed with machine guns, bombs and rocket-propelled grenades. And in Paris hundreds of thousands of people (Pluto) march against proposals to legalize same-sex marriage (Uranus). The protest turned violent (Mars) when police (Mars) denied protestors (Uranus) access to the Champs-Elysees. .
On March 25 thousands of homes in Scotland and Northern Ireland are without electricity (Uranus) and many roads are closed after heavy snowfall on the weekend; and North Korea threatens to strike targets on the USD mainland, Hawaii and Guam. On March 27 North Korea renews war threats against South Korea and the US claiming that conditions 'for a simmering nuclear war' have been created on the Korean Peninsula. Mars was square Pluto in the sky. On March 29 North Korean leader Kim Jong-Un orders preparations for strategic rocker strikes on the US mainland in response to the use of nuclear-capable B-2 stealth bombers in joint US-South Korea military drills. China appeals for calm on all sides.
So March 2013 came and went with Mars conjunction Uranus in the sky delivering car bombings, suicide bombings, rocket attacks, gun violence, helicopter crashes, destructive weather events, disputes, drone strikes, road accidents, fires, a meat scandal and an outbreak of bird flu. This time around the emergency on planet Earth involved North Korea and its evil regime, which is well and truly in the grip of Lower-Pluto. Whether its behavior is brinkmanship, bizarre paranoia, misguided bravado or bluff and bluster is anyone's guess. But it's a major menace to human welfare and if its threats turn into action the international community will have to somehow deal with this very insidious and dangerous rogue country.
Published 4-11-2013
Copyright DW Sutton, 2013. All rights reserved. light.org