Global events forecast:
May 18 — June 16, 2015

DW Sutton
The Taurus new-Moon occurs May 18, 2015 at 4.13.14 am UT and a country's lunation chart provides a forecast model of events for the period May 18 to June 16, 2015. The Sun-Moon lunation is conjunction (prominence) Mars — planet of strife, disputes, conflict, fires and accidents; and opposition (separation) Saturn — planet of economy, austerity, debt, job losses, unemployment, grief and natural disasters. The forecast model is high in discord and discord codes for problems, strife, loss, mishap and misfortune.
Washington lunation chart — May 18, 2015 at 12.13.14am EDT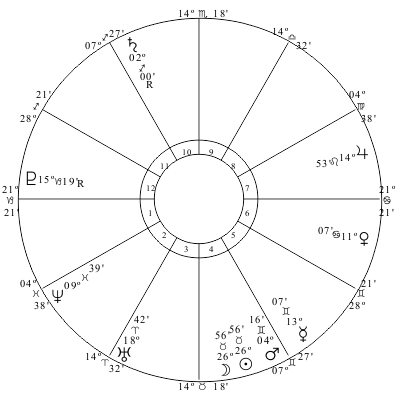 In the Washington chart the lunation and Mars are in house 4 — the housing sector, homes, weather events and the Republicans. It dominates the chart. Saturn is in house 10 — the Obama administration and business. Both houses are very high in discord. Jupiter in house 7 marks for help and assistance from other countries.
Aquarian Age chart
June 6, 2015: Progressed Moon moves to form a luck (trine) aspect with birthchart Saturn. This aspect stimulates progressed Venus conjunction progressed Saturn and marks for an 8-week time-frame during which major Venus-Saturn events can occur. The focus will be on security, safety and the social problems caused by austerity, debt, unemployment and disease. The aspect is at its peak power on July 7 and will end on August 6.
Cycle chart update
There are no aspects formed in the Pluto and Neptune cycles.
In the Uranus cycle Uranus parallel (intensity) Moon ends June 17; Uranus parallel (intensity) Mars ends June 18; and Uranus parallel (intensity) Venus ends June 20, 2015
In the Saturn cycle Saturn parallel (intensity) Uranus ends May 22; Saturn parallel (intensity) Mercury ends May 28; Saturn parallel (intensity) Jupiter ends June 4; and Saturn is parallel (intensity) Moon — peak date is July 2.
The Jupiter cycle is very active during the forecast period with Jupiter opposition Mars on May 28, opposition Sun and sesquisquare Venus on May 30, sextile Saturn on June 4, sesquisquare Jupiter on June 7 and parallel Sun on June 16. Jupiter will deliver major events on finances, banking, profits, religion, ethics and law/legal matters.
There are 8 aspects formed in the Mars cycle. Events will occur 36 hours before or after the aspect's peak date. Events mapped by Sun aspects in the Sun cycle will occur on the date indicated.
Global events forecast May 18 — June 16, 2015
Uranus is parallel Moon in Uranus cycle — radicalization; social unrest; strikes, protests and demonstrations > end date is June 17
Uranus is parallel Mars in Uranus cycle — extremist violence; suicide bombings; radicalized warriors; shootings; accidents; fires > end date is June 18
Uranus is parallel Venus in Uranus cycle — radicalized girls; extremist women; surprising social change; weird love > end date is June 20
Saturn is parallel Moon in Saturn cycle — loss for the everyday people, hardship for the suffering civilians, poverty and unemployment, austerity, public health problems, scarcity, falling food prices, grief and despair, food shortages; destructive weather events and natural disasters > peak date is July 2
Saturn is parallel Mercury in Saturn cycle — fear driven words and announcements; security talks; loss for the print media and journalists > end date is May 28
Saturn is parallel Jupiter in Saturn cycle — fear driven financial moves; debt and banks; cautious optimism; hard-line religious teachings > end date is June 4
Mars is parallel Pluto in Mars cycle — the war on terror; violent disunity; insidious violence; militant groups; death cults; beheadings; suicide bombings; kidnappings; violent coercion; angry mobs; gang violence; explosions; group accidents; mass shootings; police brutality; accidents and fires > end date is May 19
Sun is parallel Saturn in Sun cycle — security measures; political conservatism; hardship and suffering; loss and despair; austerity measures; a lack of confidence; destructive weather events; floods; natural disasters > end date is May 20
May 18: Mars is opposition Saturn in Mars cycle — war fears; brutality and suffering; police under fire; anger and grief; aggressive security measures; senseless violence; shootings; destructive weather events; natural disasters; accidents and fires
May 19: Mars parallel Pluto in Mars cycle ends
May 20: Mars is trine Mercury in Mars cycle — strife and controversy; war talk; aggressive journalism; angry words; a war of words; shootings, accidents and fires
Jupiter opposition Mars in Jupiter cycle starts — religious violence; burning churches; God and guns; reckless optimism; financial strife; frantic money making; angry bankers; legal disputes; aggressive law making; mindless extravagance; the weapons trade; gun control laws; shootings; accidents and fires > peak date is May 28
Sun parallel Saturn in Sun cycle ends
May 21: Sun is sesquisquare/parallel Pluto and semisquare Uranus in Sun cycle — extremist groups; radical coercion; social unrest; disunity; kidnappings; crowds and mobs; criminal activity; strikes and protects; extremist propaganda
May 22: Mars is square Neptune in Mars cycle — strife and lies; war and chemicals; gas explosions; oil fires; planes and bombs; plane crashes; drug busts; police deception; harsh treatment of refugees; shootings; accidents and fires
Jupiter opposition Sun in Jupiter cycle starts — a financial dilemma; finances and politics; financial problems for the politicians; religion and politics; misguided optimism and over confidence; the wealthy are under political attack > peak date is May 30
May 23: Jupiter sesquisquare Venus in Jupiter cycle starts — making money is fun; mindless extravagance; luxury love; big spending at the art auctions; financial problems for the fashion and cosmetics industries; expensive social events > peak date is May 30
May 25: Mars is square Neptune in the sky — see May 22 for event forecast
May 26: Jupiter parallel Sun in Jupiter cycle starts — finances and politics — see Jupiter opposition Sun on May 22 for a similar event trend > peak date is June 16
Sun is opposition Saturn in Sun cycle: loss; austerity; grief and despair
May 28: Jupiter is opposition Mars in Jupiter cycle — see May 20 for event forecast — end date is June 4
Sun is opposition Mars in Sun cycle — stimulates Jupiter opposition Mars in Jupiter cycle
Mars is sextile Moon in Mars cycle — civilians under fire; angry people; initiatives to deal with domestic violence; accidents and house fires
Jupiter sextile Saturn in Jupiter cycle starts — sensible business moves; cautious optimism; balancing the budget; spending Vs saving; pulling in the purse strings; a fall or rise in interest rates; sober financial policies > peak date is June 4
May 29: Sun is square Neptune in Sun cycle — oil, gas, planes and drug news
May 30: Jupiter is opposition Sun in Jupiter cycle — see May 22 for event forecast — end date is June 6
Jupiter is sesquisquare Venus in Jupiter cycle — see May 23 for event forecast — end date is June 6
June 1: Mars is sextile Uranus in Mars cycle — extremist violence; fighting radicalization; violent unrest; angry protestors; police shootings; racial violence; aggressive strike action; shocking police exposés; accidents and fires
Jupiter sesquisquare Jupiter in Jupiter cycle starts — a discordant Jupiter marks for over optimism, extravagance and bad financial, religious and legal news > peak date is June 7
June 2: Mars is inconjunct Pluto in Mars cycle — strife and coercion; insidious violence; kidnappings; aggressive propaganda; group accidents; a mass shooting; violent crime; fires and accidents
June 3: Mars is sextile Jupiter in Mars cycle — aggressive financial deals; bankers under fire; diplomatic solutions to conflicts; fighting Vs diplomacy; religious inspired violence; guns and God; good news for manufacturing; the weapons trade; accidents and fires
Sun is square Mercury in Sun cycle — talk and controversy, writers/journalists
June 4: Jupiter is sextile Saturn in Jupiter cycle — see May 28 for event forecast — end date is June 10
Sun is sextile Jupiter in Sun cycle — stimulates Jupiter sextile Saturn in Jupiter cycle
Jupiter opposition Mars in Jupiter cycle ends
June 6: Sun is inconjunct Pluto and sextile Uranus in Sun cycle — radicalization by extremist groups; huge crowds at the protects; social unrest; disunity, kidnappings
Jupiter opposition Sun in Jupiter cycle ends
Jupiter sesquisquare Venus in Jupiter cycle ends
Progressed Moon trine birthchart Saturn in the Aquarian Age chart starts — see Aquarian age chart at start of report forecast
June 7: Jupiter is sesquisquare Jupiter in Jupiter cycle — see June 1 for event forecast — end date is June 14
June 10: Jupiter sextile Saturn in Jupiter cycle ends
June 11: Mars is sesquisquare Mercury — violent controversy; journalists under fire; harsh words; shootings; fires and accidents
June 13: Sun is sextile Mars in the Sun cycle — strife, shootings, accidents, fires
June 14: Jupiter sesquisquare Jupiter in Jupiter cycle ends
June 16: Jupiter is parallel Sun in Jupiter cycle — see May 26 for event forecast — end date is July 4
Copyright DW Sutton, 2015. All rights reserved. light.org