Astro-Tarot Series
About...The Astrological Significance of each Egyptian Tarot Card
DW Sutton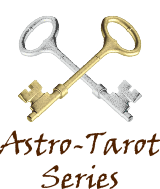 In March 1914 Elbert Benjamine commenced writing The Brotherhood of Light lessons and during 1918 he wrote the 12 lessons that comprise Course 6 – The Sacred Tarot. In April 1924 The Brotherhood of Light Astrological Research Department was established and over the next twelve years the search to discover and verify new astrological data accelerated rapidly.
Elbert completed the first writing of the lessons in February 1934 and by 1936 he had scientifically upgraded our understanding of astrology, the birthchart and the unconscious soul-mind. And in 1936 he revised Course 6 – The Sacred Tarot – to incorporate much of this new evidence-based knowledge.
At this time the public's interest in astrology was running hot so Elbert took the opportunity to incorporate all the new astrological knowledge in a 23 part series of articles which he titled: "The Astrological Significance of each Egyptian Tarot Card." In the articles Elbert not only merges the wisdom of the ancients with the latest findings of astrological science he also refers to recent discoveries by orthodox science and celebrity personalities of the time. His use of the generic pronouns he, him, his and man include women. The first installment appeared in the January 1937 issue of American Astrology magazine and over the next two years the astrological community in America feasted on what many consider to be the greatest series of articles ever written on astrology and the tarot cards.
Modern scientific astrology provides evidence-based data on the planets and zodiac signs and when it comes to understanding yourself and your life – via your birthchart – astrology is the Golden Key. The tarot is the Silver Key. It consists of 78 cards of which 22 are identified as Major Arcanum. And each Major Arcanum has a correspondence with a planet or zodiac sign. Data provided by your birthchart and data provided by the tarot represent two keys that you can use to unlock the mystery that is you and guide your self-development.
Now in 2015 the Church of Light has pleasure in presenting Elbert Benjamine's sensational 23 part series on "The Astrological Significance of each Egyptian Tarot Card" for a world-wide audience, confident that the series has as much to offer students of astrology in the Internet Age as it did when it was first published in 1937. More than 23 articles on astrology and the tarot this series is an astrology textbook of the highest caliber. And the Church of Light is inviting you to feast on the glorious world of astrology and the tarot courtesy of Elbert Benjamine. It's where ancient principles on best living are supplemented by modern science.
To purchase The Sacred Tarot by C. C. Zain (student format, hardbound)