Global events forecast:
June 16 – July 15, 2015

DW Sutton
The Gemini new-Moon occurs June 16, 2015 at 2.05.20 pm UT and a country's lunation chart provides a forecast model of events for the period June 16 to July 15, 2015. The Sun-Moon lunation is semisquare (friction) Venus — planet of peace, peace makers and social events; conjunction (prominence) Mars — planet of strife, violence, guns, bombs, war, conflicts, fires and accidents; and sextile Uranus — planet of extremism, social unrest, radicalization, freedom-fighting, technology, reform and startling change.
Washington lunation chart — June 16, 2015 at 10.05.20am EDT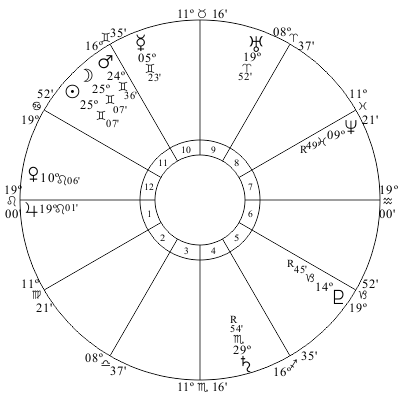 In the Washington chart the lunation and Mars are in house 11 — Congress. Mars stands for war, guns, strife and muscle flexing and the hot-heads in Congress are in an aggressive mood. Venus in house 12 marks for secret peace moves; and Uranus in house 9 marks for new (social media) laws to deal with extremists. Jupiter — the law planet — in house 1 is trine (luck) Uranus. With Mercury in house 10 the administration makes announcements that stir up controversy. Stock prices are set to rise (Jupiter). And Saturn in house 4 marks for destructive weather events — floods — with crop losses and food shortages.
Aquarian Age chart update
On June 18, 2015 progressed Moon moves to form a parallel (intensity) aspect with progressed Uranus > peak date is December 31, 2015. Uranus rules the radical element, radicalization, extremists, social unrest, strikes, demonstrations, revolutions, sudden change, sensational developments, reform, freedom and liberty. It stimulates progressed Sun square (obstacle) birthchart Uranus > peak power and discord date is December 1, 2015. This aspect marks for radical political change, freedom and equal rights, uprisings, social/political unrest and radicalization via social media. Lightning fast moves by rogue leaders cause international shock waves.
On July 6, 2015 progressed Moon is trine (luck) birthchart Saturn > end date is August 6. Saturn stands for security, safety issues, conservatism, debt, loss, unemployment, disease and hardship. This aspect stimulates progressed Venus conjunction progressed Saturn. The social problems caused by austerity, debt, unemployment and disease are a key issue.
Cycle chart update
On July 7 Pluto in the Pluto cycle moves to form a semisextile (growth) aspect with Mercury. Pluto — the planet of division and disunity — emphasizes the need for cooperation and collaboration at the talks and conferences (Mercury) > peak date is August 22
No aspects are formed in the Neptune and Uranus cycles.
In the Saturn cycle Saturn is parallel (intensity) Moon on July 2. On June 22 Saturn moves to form a sextile (opportunity) aspect with Neptune > peak date is July 15; on June 27 Saturn moves to form a parallel (intensity) aspect with Venus > end date is August 15; and on July 13 Saturn moves to form a square (obstacle) aspect with Sun > end date is August 21
In the Jupiter cycle Jupiter is parallel Sun on June 16. On June 25 Jupiter moves to form a sesquisquare (agitation) aspect with Pluto > peak date is June 30
There are 9 aspects formed in the Mars cycle. Events will occur 36 hours before or after the aspect's peak date. Events mapped by Sun aspects in the Sun cycle will occur on the date indicated.
Global events forecast June 16 – July 15, 2015
Saturn is parallel Moon in Saturn cycle — loss for the everyday people, hardship for the suffering civilians, poverty and unemployment, austerity, public health problems, scarcity, falling food prices, grief and despair, food shortages; destructive weather events and natural disasters > peak date is July 2
Progressed Moon is trine (luck) Saturn in the Aquarian Age chart — peak date is July 6
June 16: Jupiter is parallel Sun in Jupiter cycle — finances and politics; wealth and power; luxury and prestige; religion and politics; politically inspired optimism > end date is July 4
June 18: Progressed Moon in Aquarian Age chart moves to form a parallel (intensity) aspect with progressed Uranus — see Aquarian Age chart for event forecast > peak date is December 31, 2015
June 22: Jupiter is trine Uranus in the sky — financial exposés, electronic money, startling religious revelations, laws to deal with extremists, money making technology
Saturn sextile Neptune in Saturn cycle starts — practical schemes to deal with asylum seekers and refugee; employment/debt repayment schemes; idealistic economizing; airline security; reality-fantasy; cheap drugs; > peak date is July 15
June 25: Mars is semisquare Jupiter in Mars cycle — strife for those dealing in dirty money; police make arrests; financial rows; religious inspired violence; sex abuse by the clergy; gun laws; accidents and fires
Jupiter sesquisquare Pluto in Jupiter cycle starts — money corrupts; a corruption scandal; corrupt bankers; big money and crime; drastic financial moves; religious division; evil done by God's servants; religious propaganda; insidious religious groups; religion Vs atheism; corrupt judges; drastic law making > peak date is June 30
June 26: Mars is square Venus and Mars in the Mars cycle — strong stimulation to Mars marks for escalating violence; war, conflict, military displays; troops on the move; arguments; disputes; shootings; accidents and fires
Sun is inconjunct Saturn in Sun cycle — stimulates progressed Moon trine Saturn in the Aquarian Age chart on July 6
June 27: Saturn parallel Venus in Saturn cycle starts — stimulates progressed Venus conjunction progressed Saturn in the Aquarian Age chart and highlights the social problems caused by poverty, unemployment, austerity, disease and natural disasters > end date is August 15
June 28: Mars is trine Sun in the Mars cycle — war and politics; the political hot-heads get aggressive; political rows; the fighting escalates; strife; accidents and fires
June 30: Jupiter is sesquisquare Pluto in the Jupiter cycle — see June 25 for event forecast — end date is July 5
Sun is trine Neptune in Sun cycle — Neptune stands for oil, drugs, aviation and deception
July 1: Mars is inconjunct Saturn in Mars cycle — war fears; troop withdrawals; retreats and losses; destruction and despair; disease and suffering; destructive weather events; natural disasters; shootings; accidents and fires
July 2: Saturn is parallel Moon in Saturn cycle — see start of report for event forecast > end date is October 12, 2015
July 3: Mars in inconjunct Mercury in Mars cycle: war talk; inflammatory words; strife and controversy; the journalists are in harm's way; fires
July 4: Sun is trine Mercury in Sun cycle — stimulates Mars inconjunct Mercury on June 3
Jupiter parallel Sun in Jupiter cycle ends
July 5: Mars is trine Neptune in the Mars cycle: the fighting escalates; planes dropping bombs; chemical weapons; promoting the glamour of war; violent illusions; strife for the aviation industry; airline disputes; police make a big drug bust; chemical/oil fires; police deception; successful covert policing
Jupiter sesquisquare Pluto in Jupiter cycle ends
July 6: Progressed Moon is trine (luck) Saturn in the Aquarian Age chart — see Aquarian Age chart for event forecast > end date is August 6, 2015
July 7: Pluto semisextile Mercury in Pluto cycle starts — see Cycle Chart update for event forecast > peak date is August 22
Sun is opposition Pluto and square Uranus in Sun cycle — terror groups; kidnappings; coercion; extremist propaganda; social unrest; disunity; racism
July 11: Mars is square Moon in Mars cycle — escalating violence; civilians under fire; domestic violence; shootings, accidents; fires
Sun is sesquisquare Saturn in Sun cycle — stimulates progressed Moon trine Saturn in the Aquarian Age chart on July 6
July 13: Saturn square Sun in Saturn cycle starts — conservative politics puts the break on progress; incompetent leadership; a fall from grace; a political leader is ousted; shame and despair; an air of doom and gloom; natural disasters > end date is August 21
July 14: Sun is square Mars in Sun cycle — stimulates Mars square Uranus that starts on the same day
July 15/16: Mars is square Uranus and opposition Pluto in the Mars cycle and Mars is opposition Pluto in the sky — a dangerous three days as Mars-Uranus and Pluto influence the proceedings; a terror attack by an extremist group; extremist violence; horrific brutality; war, uprisings; aggressive propaganda; racial violence; police shootings; violent unrest; violent demonstrations; violent crime; gang fights; a mass shooting; accidents; plane crashes; train crashes; fires
Saturn is sextile Neptune in Saturn cycle — see June 22 for event forecast > end date is September 10
Sun is sesquisquare Neptune in Sun cycle — stimulates Saturn sextile Neptune in Saturn cycle
Copyright DW Sutton, 2015. All rights reserved. light.org